This is my baby boy, Kodi. He is a fawn brindle and is the cuddler of the two. He is a true "Momma's boy". He keeps us laughing with his goofy antics and his "back talking". He also loves the water like his big brother, Triton, but prefers to "attack" the waves instead of swimming.
He has been spending this summer with his breeder to be shown and bred and so as I get the new pictures, I will post them on here as often as I can.
NEWS FLASH! NEWS FLASH!
Kodi is now CH. Lamar's Kodiak Grizzly Bear!!!!!
He took a 4 point major Friday, July 8th and then a 5 point major Saturday, July 9th to get his Championship!!! Pictures coming soon. I am hoping to be able to bring him home sometime in August and will post pictures then. :o)
Kodi is now home from his trip to California. I flew down there on August 5th and went to a dog show in Dixon, Ca. Man...was it HOT! On the 6th it was 110 degrees! I thought I was going to die, lol! Kodi's sister, Lexus, finally finished her Championship and his brother, Opie, too Best of Breed both days! Way to go guys! We are both now home and Kodi is settling back into the Alaskan life style....doing nothing. :o) He is happy to be home where the temps are much cooler. Thank you SO much Margo and Eric of Lamar's Mastiffs for taking in my boy for all those months and making him into a Champion! Pictures of his trip will be posted soon!
Another News Flash!!!! Kodi has become a DADDY! He was bred to CH. LaMar's Molly Dolly of Brite Star and the puppies were born in November 2005. There are 3 of them, 2 boys and a little girl. They are SO dang cute! Check out the Nursery page for pictures.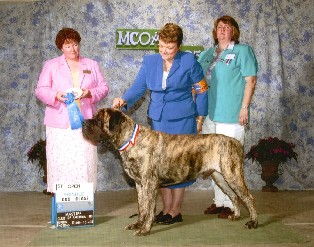 Kodi taking 1st Open Brindle Dog in French Lick, Indiana
Taking his 1st Major in Ventura, CA. (5 pt. Major)